Disclaimer: This is a very lengthy story but, I assure you it is a good one!
This was a very interesting and fun weekend for me. It was youth season this weekend in the state of Missouri. I would just like to share how my awesome weekend went:
Friday night after taking 3 children Trick-or-Treating it was time to go by Wal-Mart to get tags for my 10 year old son and myself to go hunting opening morning of youth season. With the size of the line that was in the sporting goods department everyone else had the same plans. So, after a good wait we got our tags and headed back to the house to prepare for Saturday morning.
5 A.M. comes awful early in the morning when you are woke up by a very anxious hunter. So, I get around & get ready and couldn't drink my 3 cups of coffee fast enough for him. Off we go! We have left the house going to hunt in the same areas where my father had taken me when I was a boy.
We leave the house on foot and walked 3/4 of a mile to where a old dozer deck use to be and set up. Behind us there was a doe and two little ones that entertained us for a while before they decided to leave. About 10 minutes later I could hear a buck grunting and chasing a doe. We caught glimpses of them while hoping that they would come our way. We saw the buck cross the fence going away from us. (or I thought it was the same buck). A doe and a young one came towards us from the direction that he had gone. Now at this point my son was wanting to shoot the doe. I seen the buck following behind which appeared to be a big heavy 8 point. I grunted and got him to stop. Jaydon, My son, was sitting on a stump and took a rest off of his knee at a 100 yds. and missed. The buck stood there while he tried to chamber another round. The buck then took two jumps and was out of sight. we walked down and looked for blood an there was none to be found. So, we went ahead and made a circle and jumped another doe with no shot available. It was getting late in the morning so we headed back to the house. It was a very productive morning Jaydon learned a few thing along with being patient and to always look up not to watch his feet while walking.
I know your thinking hmmm....what a day but, now the fun is starting to begin!
Sunday, around noon I received a phone call from my cousin Kevin who had been hunting with his son & daughter that morning and wanted us to come down to check their deer out. So, we all load up and head that way. When we get there we seen a nice buck & doe hanging from the bucket of the tractor. Tristan his 10 year old son had made an unbelievable shot on a 8 pt buck Kevin told us(my wife & I) that he only had one shot & Tristan took it right through his right eye. So, naturally after we get done looking at Tristan's Buck we start bragging on Diamond his 13 year old daughters doe that she had killed. Then Diamond really got our attention. She said that while they were hunting there was something growling, looked at 15 steps was a female bobcat. Naturally she took the shot and nailed her right in the right shoulder, breaking the shoulder to pieces. While my wife and I was looking at the cat we noticed that there was a small entrance wound and no exit what so ever! Kevin informed me 9that she shot that cat with a 243 using factory 100gr Core-lokt's (Here I am building a 17 to keep from fur damage) we was still amazed. So, my wife agreed to skin the cat for Kevin for his daughter to keep. While my wife was skinning the bobcat later that night we found the bullet lodged in the left hip! Reason for not posting photos of their deer due to already being over half skinned!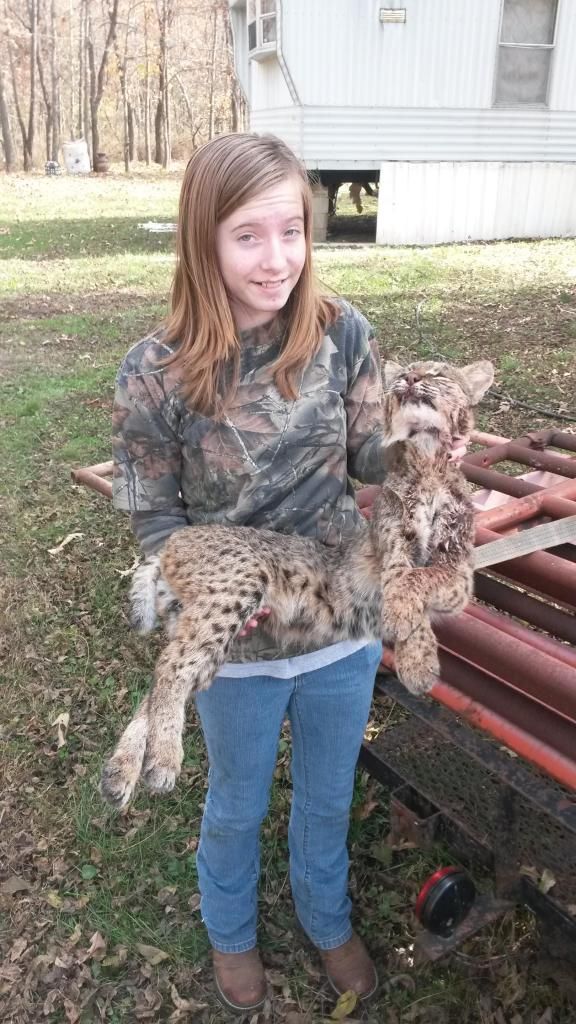 We left there my wife more determined to go out and set up to call for a little while. Naturally I didn't move quick enough for her with her being geared up to go, but, we set out to go and make a stand. We had sat at this little pond not to far from where the bob cat was shot and the only activity that we seen ws a nice 8pt buck that come walking through that my wife wanted to take home(But she didn't)
So, we head back to the house to take Jaydon out for the last final hunt of youth season(I promise you it will get exciting!)