Picked this up a few months ago, or maybe, more like a year ago. Either way, hadn't shot it and finally decided to get is sighted in and see what it would do.
First, the gun. A Winchester Model 52B Sporter. I have one that is the Utah Centennial that shoots awesome so I figured this one would too.
I slapped a Pentax equivalent of the Burris FFII 4.5-14 on it.
Shot a couple of groups with Fiocchi standard ammo, Aguila Golden Eagle, Wolf Match and Lapua Master L.
Here is a 5 shot ground with the Lapua Master L. Note to sell, don't ever tell yourself, "4 in the same hole, don't pull the 5th one..." because as you'll see from this group, I pulled the 5th one. Moron!
(2 at the bottom were sight in shots with the Fiocchi, which it also shot well).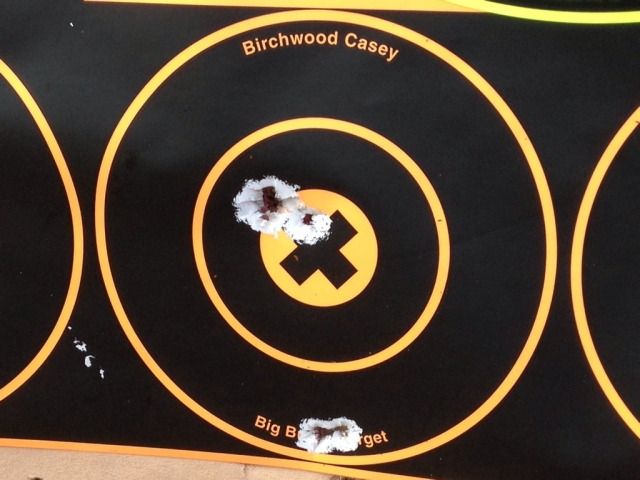 Someone had slapped a target on mine, hence all the holes in the big target, when I gave up the range for some older couple to shoot their pistols. I was 50 yards back and just decided to come back later. I was surprised to see after I gave them the courtesy of the range that they covered up my target. Oh well...
Top Left was Fiocchi Performance Standard Velocity. For the price, it shot very well.
Under that, Aguila Golden Eagle. Not bad, not great. That was 10 shots.
Bottom Left corner, Wolf Match Target. I expected better, but that's why we test them right?
Bottom center, as mentioned above, Lapua Master L. Kept punching the same hole until I flipped on the last shot. Very impressed to say the least. Of course, it's not cheap either. LOL
All in all, happy with the gun and this one looks like a keeper.